Our jury represent the highest possible level of expertise in the field of daylight
The jury shall represent the highest possible level of expertise in the field of daylight research and daylight architecture, including relevant and comprehensive knowledge of the international scientific and architectural world. In terms of merit, recognition and knowledge, the members are expected to be outstanding and highly respected by the international community.
The jury comprises at least six and no more than nine members. The jury should have members from at least three different countries and should not have more than two members from the same country.
Principal of Lacaton & Vassal Architectes, based in Paris, France.
Anne Lacaton is also Associate Professor of Architecture & Design at the Swiss Federal Institute of Technology (ETH Zurich), based in Zurich, Switzerland. Anne Lacaton and Jean-Philippe Vassal formed architectural practice Lacaton & Vassal in Bordeaux in 1987.
In 2021 Lacaton & Vassal were rewarded with The Pritzker Architecture Prize. In 2019 they have received the European Union Prize for Contemporary Architecture, Mies van der Rohe Award, for the transformation of 530 dwellings in Bordeaux, with Frédéric Druot and Christophe Hutin. In 2017 the office received the Global Award for Sustainable Architecture and in 2016 the Académie de l'Architecture, France – Gold Medal. In 2016 the Heinrich Tessenow Prize, Germany – Gold Medal. 2016. In 2014 the Rolf Schock Prize, visual arts, Sweden. In 2014; Design of the year 2013, Architecture, England for the transformation of the Housing block Tour Bois le prêtre, Paris, With Frédéric Druot. In 2011 recipients of The Daylight Award by the VELUX Foundations. Grand Prix National d'Architecture, France, 2008. International Fellow of Royal Institute of British Architects, 2009. The Erich Schelling Award, Karlsruhe 2006. Award "Sustainability and Residential Innovation", City of Madrid in 2006. Grand Prix National d'Architecture Jeune Talent, France, 1999. Lauréats des Albums de la Jeune Architecture, France, 1991.
As an academically outstanding teacher with socio-political integrity and a visionary approach to architecture, Anne Lacaton´s designs and constructions make a clear statement in support of the human rather than the iconic. She shows great consideration for the concerns of the people involved, such as residents in areas undergoing redevelopment. Her design concepts aim to facilitate user participation, both in residential buildings as well as schools or museums. She was Visiting Professor at the University of Madrid, Master Housing (2007-13); Swiss Federal Institute of Technology (EPFL Lausanne) in 2004, 2006 and 2010-11; University of Florida, Ivan Smith Studio in 2012; University of NY-Buffalo, Clarkson Chair in 2013; Pavillon Neu ize OBC-Palais de Tokyo, Paris, in 2013-14; Harvard Graduate School of Design (GSD); Kenzo Tange 2011 & Design Critic 2015.
Creative Director & Founder of Dorte Mandrup A/S
Dorte Mandrup is an architect and humanist with a distinct nonconformist mindset. Through strong compositional takes, her forte is designing for complex and challenging sites with an insightfulness that addresses environmental and societal contexts. A preoccupation with exploring sculptural and material qualities of architecture leads to artful, intriguing spaces that foreground their environment and the conditions from which they arise.
After graduating, Dorte worked for Henning Larsen for four years, before co-founding Fuglsang & Mandrup-Poulsen Architects in 1996. In 1999 she set up her own studio, where she works "hands on" and in close interaction with all project teams, attaining design responsibility for the layout of every project in the studio.
Dorte Mandrup is a visiting Professor at Mendrisio Accademia di Architettura, Switzerland and  Honorary Professor at The Royal Danish Academy of Fine Arts, School of Architecture, Copenhagen, Denmark. In 2019 she chaired The European Union Prize for Contemporary Architecture – Mies van der Rohe Award. She is a vice chair of Louisiana Museum of Modern Art, Denmark (board member since 2006)  and a member of Danish Historic Buildings Council, appointed by the Danish Ministry of Culture, Copenhagen, Denmark.
Dorte Mandrup has a Master of Architecture degree from  Aarhus School of Architecture (AAA), Denmark. She also attended School of Arts and Crafts, Visual Arts Department, in Kolding, Denmark and G.S.C. Art Department, Sculpture & Ceramics, in US.
Professor of Sustainable Construction Technologies at EPFL (École Polytechnique Fédérale de Lausanne) and Co-Founder of OCULIGHT dynamics Sàrl.
Marilyne Andersen is a Full Professor of Sustainable Construction Technologies and Dean of the School of Architecture, Civil and Environmental Engineering of EPFL (ENAC). She is heading the Laboratory of Integrated Performance in Design (LIPID) that she launched in the Fall of 2010. Before joining EPFL as a faculty, she was an Assistant Professor then Associate Professor tenure-track in the Building Technology Group of MIT's School of Architecture and Planning and the Head of the MIT Daylighting Lab that she founded in 2004.
Marilyne Andersen owns a Master of Science in Physics and specialized in daylighting through her PhD in Building Physics at EPFL in the Solar Energy and Building Physics Laboratory (LESO) and as a Visiting Scholar in the Building Technologies Department of the Lawrence Berkeley National Laboratory in California.
Her research focuses on building performance in the architectural context in general, and the use and optimization of daylight in buildings in particular. Specific topics she has been working on include: visual and thermal comfort; design tools in the early stages of the design process; goal-driven approaches in design; performance visualization; design implications of effects of light on circadian photoreception and health; advanced glazing and shading systems, daylight redirecting devices; video-based approaches in photometry.
Laureate of The Daylight Award 2016 for Daylight Research, Chair of The Daylight Award Jury in 2018 and member of the Jury in 2020.
Professor for Science Studies at the ETHZ Zurich
Gerd Folkers has been Professor of Pharmaceutical Chemistry at the ETH Zurich since 1991. In 2004 he has taken the chair of Collegium Helveticum, the interdisciplinary institution, ran jointly by the University of Zurich and the ETH Zurich.
He studied pharmacy at the University of Bonn and earned Ph.D there. 1983 he transferred together with his mentor to the University of Tübingen, where he completed habilitation in 1989 in pharmaceutical chemistry. During a stay in Bern, Switzerland, he studied new research methods in computer aided molecular design. He expanded his knowledge during other stays abroad, especially with T. Blundell at the Birkbeck College in London and E. Meyer at Texas A&M University.
The focus of his research work is the molecular interaction between drugs and its binding sites in vivo. He is particularly interested in the strong integration of computer aided modeling and relevant biochemical/biophysical experiments. Besides the research on molecular mechanism of ""conventional"" nucleoside therapeutics against virus infection and cancer, his special interest has shifted to immuno therapeutics.
He is editor of the journals "QSAR" and "Pharmaceutica Acta Helvetiae", author and editor of diverse scientific books, president of the Scientific Advisory Board of the Collegium Helveticum, vice president of the ""Schweizerischen Gesellschaft der Pharmazeutischen Wissenschaften"", member of the executive board "Schweizerischen Akademie der Technischen Wissenschaften", as well as a member of the board of many international scientific societies.
Director of the Nuffield Laboratory of Ophthalmology and Head of the Sleep and Circadian Neuroscience Institute at the University of Oxford
Russell Grant Foster, CBE, FRS FMedSci is a British professor of circadian neuroscience, the Director of the Nuffield Laboratory of Ophthalmology and the Head of the Sleep and Circadian Neuroscience Institute (SCNi). He is also a Nicholas Kurti Senior Fellow at Brasenose College at the University of Oxford. Foster and his group are credited with key contributions to the discovery of the non-rod, non-cone, photosensitive retinal ganglion cells (pRGCs) in the mammalian retina which provide input to the circadian rhythm system. He has written and co-authored over a hundred scientific publications.
Russell Foster is a fundamental neuroscientist. His interest is, and has always been, understanding how the body clock (circadian rhythm) and the sleep-wake rhythm are generated and modulated. His early research involved transplanting a specific group of brain cells from one breed of hamster to another breed. In doing so, he was able to demonstrate that it is the brain that sets the rhythm of the body clock. But perhaps his most recognized scientific discovery – first in mice and then in humans– was that the eye contains a specialized cell, a light sensor that aligns the body clock and the sleep–wake rhythm to the day-night cycle. Without this specialized cell, we would drift out of time with the day. And this singular discovery has changed fundamental tenets of knowledge regarding the effects of light on biologic systems and human physiology.
In 2020 Russell Foster has been awarded with The Daylight Award for Research.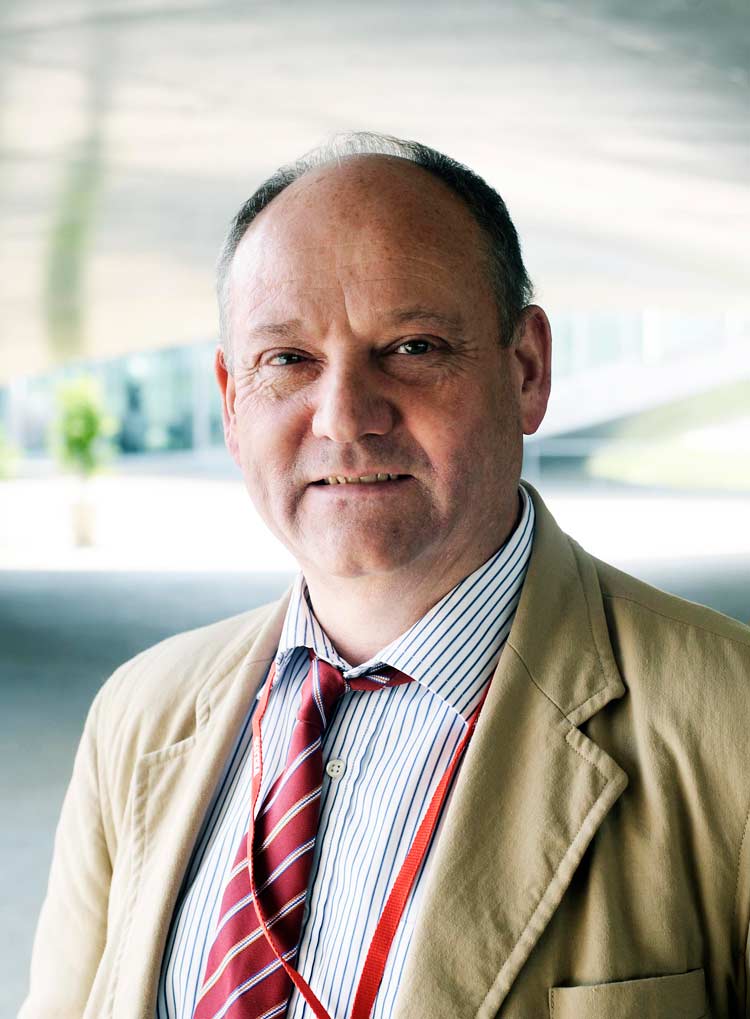 Juhani Pallasmaa is a Finnish architect, writer, teacher and practicing architect who has lectured extensively across the world for more than 40 years.
From 2009-2014 he served on the jury for the Pritzker Architecture Prize and he received an honorary doctor of architecture degree in 2013. Pallasmaa is an honorary Fellow of the American Institute of Architects and he is the 2009 recipient of the Arnold W. Brunner Memorial Prize from the American Academy of Arts and Letters. Pallasmaa served as dean and professor of architecture at the School of Architecture, Helsinki University of Technology (HUT), from 1991-98. Previously, he had served as rector of the Helsinki University of Applied Arts, as professor of architecture at Addis Ababa University in Ethiopia, and as director of the Museum of Finnish Architecture in Helsinki. Pallasmaa has held visiting chairs of architecture at the University of Virginia, Catholic University of America and Yale University, among others.
He is the author and/or editor of more than 45 books on topics ranging from architecture and the visual arts to environmental psychology and cultural philosophy. His books have been translated into more than 30 languages. His book The Eyes of the Skin: Architecture and the Senses (1996) has become a classic of contemporary architectural theory and is required reading in architecture schools around the world. As director of the Museum of Finnish Architecture, he was germane in internationalizing its activities and exhibiting over a decade ago the works of such architects as Tadao Ando, Alvaro Siza and Daniel Libeskind, who only later became renowned throughout the world.
In Finland, Juhani Pallasmaa is known as a Constructivist. His work has been inspired by the simplicity of Japanese architecture and the abstraction of modern Deconstructivism. 2003-2006: Kamppi Centre, Helsinki. 2004: Snow Show (with Rachel Whiteread), Lapland. 2002-2003: Bank of Finland Museum, Helsinki. 2002: Pedestrian and cycle bridge, Viikki Eco-village, Helsinki. 1989-91 Major extensions to Itäkeskus Shopping Centre, Helsinki. 1990-91: Outdoor spaces for Ruoholahti Residential Area, Helsinki. 1986-1991: Institut Finlandais (with Roland Schweitzer), Paris. 1987: Phone Booth Design for Helsinki Telephone Association. 1986: Renovation of Helsinki Old Market Hall, Helsinki. 1984-1986: Renovation of the Art Museum in Rovaniemi. 1970: Summer atelier of artist Tor Arne, Vänö Island.
Chairman of the Jury
Professor of Sustainable Design, The Martin Centre for Architectural and Urban Studies, Department of Architecture, University of Cambridge, United Kingdom (Nationality: Netherlands).
Koen Steemers is an architect and environmental design specialist, who was listed as one of the "top 50 most influential people in UK sustainability" by the journal 'Building Design'. He has been Head of Department of Architecture (2008-14) and Head of Research as the Director of the Martin Centre at Cambridge (2003-08), where he obtained his Masters (1988) and PhD (1992). Koen's expertise is based on being a registered architect (has practiced in the UK and Germany, and is a founding Director of CH+W Design); environmental design consultant (as Director of Cambridge Architectural Research Ltd and collaborator with Richard Rogers Partnership and other international practices); consultant to UN-HABITAT; President of PLEA (Passive and Low Energy Architecture international association); Guest Professor at Chongqing University, China and at Kyung Hee University, Korea. Koen has extensive architectural research assessment experience, including two stints on the UK Government's research reviews (RAE2008 and REF2014) and as deputy Chair of the Hong Kong Research Assessment Panel 2014. He is currently on the UK Green Building Council "Healthy Homes" task group.
Koen Steemers' research activities are focused on the environmental and daylighting performance of buildings and cities – with a particular interest in human perception and behaviour – which are the topics of funded projects and his PhD students. He has worked on research projects valued at over £20m, supervised 35 PhD students and published over 200 scientific papers and books. He currently heads a research group of a dozen academics and research students called "Behaviour and Building Performance". His books include, amongst others, "Daylight Design of Buildings" (with Baker) (image attached) and "Daylighting in Architecture" (with Baker and Fanchiotti).
Member of The Daylight Award Jury in 2016, 2018 and in 2020.
THE DAYLIGHT AWARDS 2020 — 1980
Founder of the cross-disciplinary design firm James Carpenter Design Associates, US.
Member of The Daylight Award Jury in 2016 and 2018. Chairman of the Jury in 2020.
Associate professor of Biology and Medicine , University of Lausanne, Ophthalmic Hospital Jules Gonin, Lausanne, Switzerland.
Member of The Daylight Award Jury in 2016, 2018 and in 2020.
Fellow and Director, Global Light Design Leader, Arup, London, United Kingdom.
Member of The Daylight Award Jury 2016 and 2018.
Professor and vice dean at the Department of Architecture, ETH Zürich and founding partner of the interdisciplinary design practice Urban-Think Tank (U-TT), Switzerland, Venezuela.
Member of The Daylight Award Jury 2016 and 2018. Chair of the Jury 2016.
Professor and dean emeritus at the Institute of Architecture, studio B3, Oslo, Norway.
Member of The Daylight Award Jury 2016 and 2018.
Senior Advisor for Building Science at Lawrence Berkeley National Laboratory, California, US.
Member of The Daylight Award Jury 2016 and 2018.
Learn more
about the award