THE DAYLIGHT AWARD 2022 — DAYLIGHT IN ARCHITECTURE
Yvonne Farrell and Shelley Mcnamara
Grafton Architects were founded in 1978 by Yvonne Farrell and Shelley McNamara. They graduated from the School of Architecture at University College Dublin in 1974, where they taught from 1976-2002 and were appointed as Adjunct Professors in 2015. Their international academic roles have included: Visiting Professors at EPFL Lausanne, the Kenzo Tange Chair at GSD Harvard, the Louis Kahn Chair at Yale, and they are currently Professors at the Accademia di Architettura, Mendrisio, Switzerland. They are Fellows of the Royal Institute of the Architects of Ireland (RIAI), International Honorary Fellows of the Royal Institute of British Architects (RIBA) and elected members of Aosdána, the eminent Irish art organisation. Grafton Architects have won numerous architectural awards for their work including the RIBA's International Prize, Stirling Prize and Gold Medal. In 2020, Yvonne and Shelley were selected as the Pritzker Prize Laureates - the highest international honour for architects.

JURY REASONING
Grafton Architects have mastered the use of daylight throughout their wide and exceptionally varied design production. They use natural light to differentiate and articulate spaces of different importance, functional purpose and experiential atmosphere. Daylight is employed in their design process as an integrated and irreplaceable quality, along with the spatial arrangement, structural frame and technical systems. Their skill to direct daylight both vertically and horizontally into often thick and layered building volumes is remarkable. Natural illumination heightens the working conditions and sensory qualities of the spaces, instead of being merely an element of composition or aestheticization. Daylight emphasizes and celebrates the main spaces in their buildings. Natural light in Grafton Architects' projects has a relaxed, generous and calm presence.
Yvonne Farrell and Shelley McNamara do not always explicitly describe their approach and concept of daylight in their designs. However, the projects speak for themselves, and are explicit and representative of Grafton Architects' attention to the constant integration of daylight in their projects and its specific role. Daylight is evident as an inseparable aspect of their designs. This is most clearly revealed in the sections of their buildings.
In Grafton Architects' buildings, the use of the daylight creates beautiful contrasts, and illuminates the core of their projects. Daylight produces a comfortable and warm atmosphere in service of the users. The daylight does not create monumentality - it is not a religious or scenographic light. It is a beautiful, soft and humanistic light, perfectly merged with the architecture. This is a light that integrates and creates a unique spatial experience without being demonstrative or imposing.
Consistently, in all their projects, Grafton Architects' virtuosity and remarkable use of daylight enables them to conceive thick, deep buildings, and to bring the light where it is wanted, necessary and comfortable: to work, to read, to stay. It allows them to create a complex and rich interior architecture, spatially dense, which nevertheless achieves a human scale and intimate environments within tall and large buildings. In some works, surfaces are used as daylight reflectors and modulators. Glazed ceramic floor, combined with rough brick walls, silky dark wood, together with carefully placed openings, create rich and intricate spatial experiences.
It is clear that daylight is particularly important in Grafton Architects' architecture. It is not an accessory. It is a major constituent element of the architecture. Grafton Architects show a skilful and delicate mastery of daylight, which fully serves an architecture of use for the people who inhabit the spaces, and enhances the life of the community.
Institut Mines-Télécom - Paris-Saclay by Grafton Arch - ©Philippe Ruault
Institut Mines-Télécom - Paris-Saclay by Grafton Arch - ©Dennis Gilbert
Kingston University London - Courtyard Section - ©Grafton Architects
Kingston University London - View of Staircase - © Dennis Gilbert
Universita Luigi Bocconi Milan by Grafton Arch - Section final
Universita Luigi Bocconi Milan by Grafton Arch - ©Iwan Baan
University Campus UTEC Lima by Grafton Architects - Photo © Iwan Baan
Yvonne Farrell ©The Daylight Award
Institut Mines-Télécom - Paris-Saclay by Grafton Arch - ©Philippe Ruault
Kingston University London - Central Courtyard as Performance Area - ©Alice Clancy
Kingston University London - Colour Atrium Section 2 - ©Grafton Architects
Shelley McNamara ©The Daylight Award
Universita Luigi Bocconi Milan by Grafton Arch - ©Iwan Baan
University Campus UTEC Lima by Grafton Architects Photo - © Iwan Baan
University Campus UTEC Lima by Grafton Architects - Section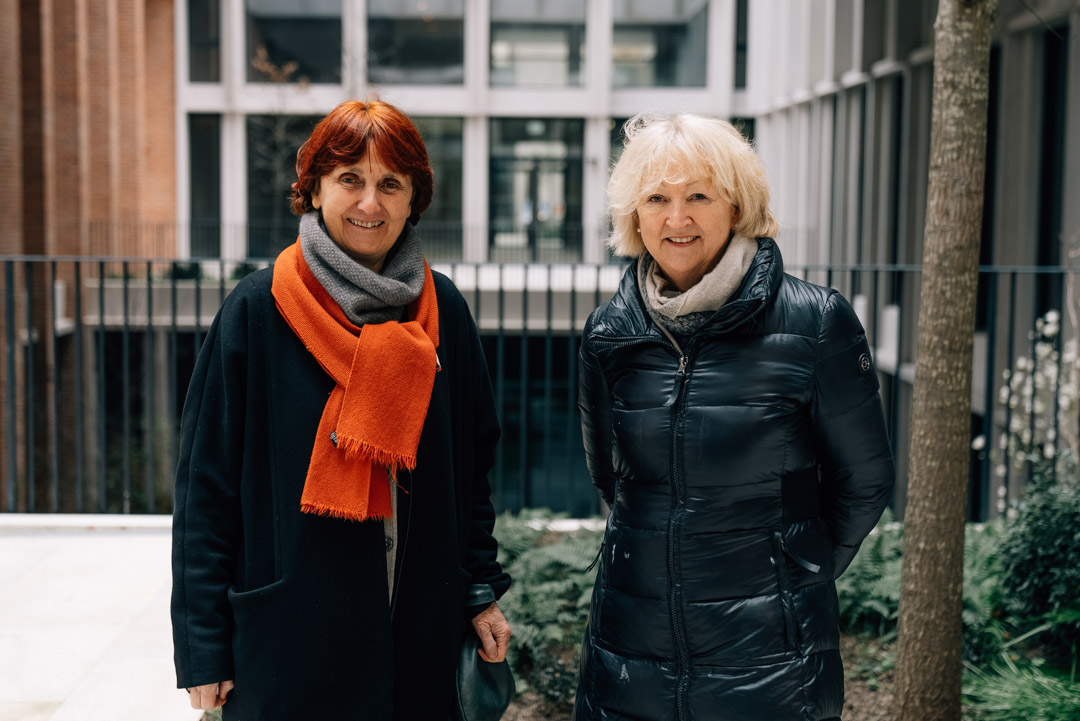 Yvonne Farrell and Shelley McNamara Grafton Architects ©The Daylight Award
Download the press release videos and photos