THE DAYLIGHT AWARD 2020 — DAYLIGHT IN ARCHITECTURE
Juha Leiviskä is one of the most significant contemporary architects in Finland. In his works of architecture, he demonstrates a unique ability to make daylight an integral part of his buildings, in a way that combines emotional delight, functional appropriateness, and a delicate yet wonderful presence of light as part of one's spatial experience. In the current context of environmental values of architecture and the use of natural resources to create a natural and sustainable comfort, the work of Leiviska on daylight is particularly relevant today.

JURY REASONING
Daylight solutions in modern architecture are usually based on variations of zenithal light, or narrow roof or wall slits to guide light along the surfaces of the architectural space. Leiviskä's light is an oblique light that both hits vertical surfaces directly and is reflected to create experiences of layered light with a distinct feeling of depth. His light does not only illuminate surfaces, it appears to originate and exist vibrantly in the architectural space itself. An especially delicate effect in his light articulations is the use of reflected colour, which makes colour a constantly changing, kinetic and pulsating phenomenon. The colours strengthen and weaken, appear and disappear according to the intensity and direction of sunlight, like breathing. Altogether, Leiviskä continues and enriches the humanistic traditions of the masters of Nordic architecture and design. In his design of dwellings, Leiviskä takes the same attention to the quality and intensity of daylight for the inhabitants' visual comfort and well-being. He does this calmly, simply, and in a refined way without seeking effects.
His first remarkable building was the Kouvola Town Hall in the late 1960s, designed in collaboration with Bertel Saarnio, an older colleague. Leiviskä came to international attention after the 1970s with a number of exceptionally refined and moving religious buildings. In addition to several churches and congregational buildings, he has built a number of high quality houses and apartment buildings, a library, an embassy, and a cultural center in Jerusalem. In addition to his built work, he has made numerous and excellent competition entries and unexecuted projects, i.e. for museums of contemporary art. His architecture is always humane, modest, calming and optimistic. It is welcoming and gentle without any attempt to dominate or impress the visitor, or draw attention to the designer.
Juha Leiviskä himself emphasizes the relational and mediating purpose of his designs: "Architecture is closer to music than the visual arts. To qualify as architecture, buildings, together with their internal spaces and details, must be an organic part of the environment, of its grand drama, of the movement and of its spatial sequences. To me, a building as it stands, ´as a piece of architecture´, is nothing. Its meaning comes only in counterpoint with its surroundings, with life and with light".
Leiviskä's churches are indeed masterfully articulated instruments of daylight. He has been inspired by Bavarian Baroque churches, especially the Vierzehnheiligen by Balthasar Neumann, while his planar orthogonal compositions echo De Stijl principles of visual counterpoint. Leiviskä is also inspired by music, and his architectural projects evoke a musical feeling, especially that of Mozart. At the same time that Leiviskä's architecture echoes architectural and musical precedents, his treatment of light reflects the natural light conditions in the Nordic forests, especially counter light seen through foliage, and the ambience of birch trees with their white vertical rhythms. Altogether, Juha Leiviskä continues ad enriches the significant traditions of the Nordic masters of modern architecture.
German Embassy Helsinki, 1986-93, photo Arno de la Chapelle
Myyrmäki Church, in Vantaa (near Helsinki); 1980-84, photo by Arno de la Chapelle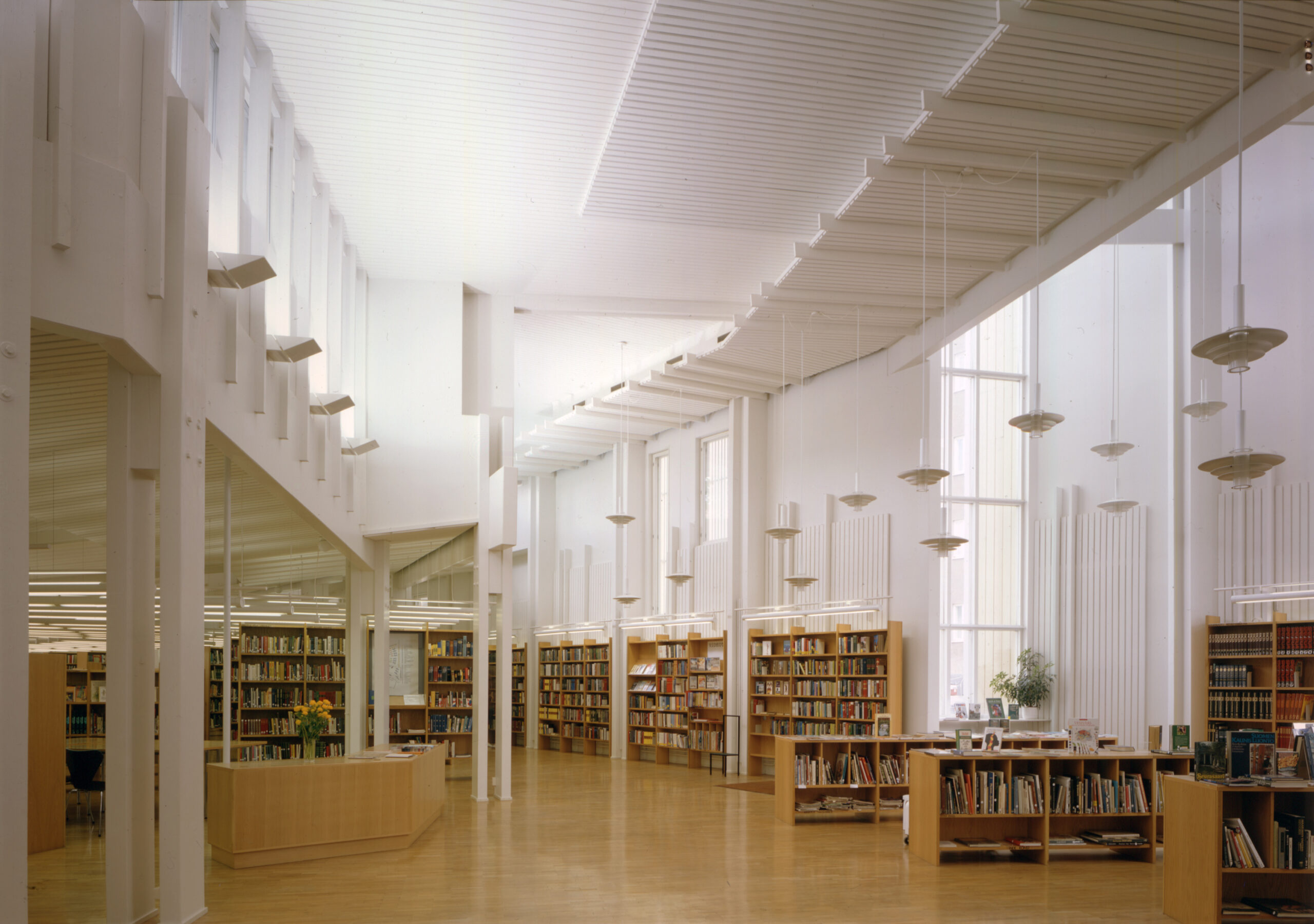 Vallila Library, Helsinki, FI by Juha Leiviska, The Daylight Award 2020 Laureate, photo by Arno de la Chapelle
Church of the Good Shepherd Pakila, Helsinki, 1997-2003, photo Arno de la Chapelle
Männistö Church Kuopio, Finland, 1986-1992, photo Jussi Tiainen
Myyrmäki Church, in Vantaa (near Helsinki); 1980-84, photo by Arno de la Chapelle
Download the press release videos and photos